With the help of several HubSpot tools and a skilled partner, Nordic Floors' sales reps have a clear structure in their daily work and customers are provided with personal service. The activities are measurable and transparent for everyone in the company.
Nordic Floors Ltd is a Finnish, Lapua-based company specializing in floors, with operations in Finland, Sweden, the Netherlands and Germany. Their product range includes oil-waxed oak parquet floors, which are manufactured at Nordic Floors' factory in Southern Ostrobothnia. Additionally, the company resells and imports SilentTECH vinyl planks.
The online stores operating under the company are the Vinyylilattiakauppa, Lapuafloors, Nordic Bamboo, Vinylgolvbutiken, nordicfloors.de and Vinylvloerwinkel.
Nordic Floors sells its products to both consumers and organizational customers.
Challenges and goals
Nordic Floors started using HubSpot's Sales Hub Starter package in the summer of 2020. Moreover, they were already using a free version of the HubSpot CRM to which the data from the previous CRM system was transferred. At this stage, the online stores were also integrated into HubSpot, so that floor sample orderers and floor purchasers could be brought together in one place.
"HubSpot was in place, but we didn't really make any use of it. The sales reps used excel spreadsheets to call through the contacts. The responsibilities in the sales team were not clear and the visibility on the team's activities was not to be seen in one place. The ones that order samples from the online stores are the best leads and for those our tactic was aggressive waiting instead of active contacting", says Jukka-Pekka Kallio, CEO of Nordic Floors.
Therefore, we identified a need to streamline and facilitate the work of our sales reps by creating a clear sales pipeline and automating as many individual steps as possible. Additionally, we wanted our marketing emails to be sent from HubSpot in the future.
In order to help streamline sales and marketing, the HubSpot partner Sales Communications came into the picture in late 2021.
"A remote meeting with Sales Communications was set up quickly and I was delighted with the clear service description and the clearly stated price for the HubSpot restart project we needed", says Kallio.
"Jani understood our business and because he knows HubSpot very well, we got answers to our questions right away. The cooperation during the project was effortless and proceeded according to clear steps with the help of HubSpot's projects tool and regular online-meetings. Sales Communications did what had been agreed and their expertise was very useful to us", Kallio continues.
The partner being present increased the customer's awareness of HubSpot's features, such as various content production capabilities (CMS Hub) and the use of automation. Automation now makes the sales rep's work easier and more efficient in the form of snippets, sequences and contact, company and deal property settings, for example. In early 2022, Nordic Floors' HubSpot platform was upgraded with Marketing Hub Professional, Sales Hub Professional and CMS Hub Professional. To enable all the desired features like several domains, CMS Hub was eventually upgraded to Enterprise.
Solutions and results
During the first few months, the sales process evolved to be in an excellent condition, and sales reps are eager to use sales automations such as tasks, snippets, and the sequence feature. The job is hugely efficient when all the information is visible to everyone in one place.
HubSpot tells sales reps what to do during the upcoming business day. To-do lists and reminders work well.
"We call all the sample orderers, and have received great feedback from this personal touch and service. Purchase decisions are now made faster than before, since we are able to support the customer's decision", says Kallio.
Older contacts on HubSpot have been systematically reviewed by setting automated tasks or creating custom views for each sales rep. New leads have been found through them.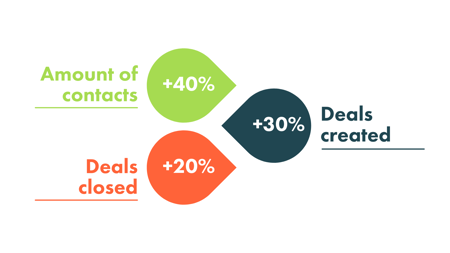 Data from the last month shows that
the number of contacts in HubSpot has increased by 40%
the number of new deals increased by 30% and
the number of deals closed increased by more than 20%.
HubSpot provides good opportunities for sales development by providing data, eg. deal forecasting and time from lead to customer.
"By experimenting and looking at the reports, we know the direction in which we need to develop our operations. For example, the sales pipeline will still evolve before we can say that it is completely suitable for our purposes", says Kallio.
The measurement of customer satisfaction has also started in accordance with the goal. When HubSpot brings a reminder to the sales rep, the customer receives a call.
The priority for the first three months was to get the Sales Hub in shape. However, the project progressed at such a good pace that the Marketing Hub has already been introduced for automated and regular emails.
Plans for the future
Nordic Floors' international business is set to grow: the company will have its own sales rep in Germany in August 2022 and the Dutch online store will open by the beginning of 2023.
"HubSpot's data is starting to tell, among other things, what works in a certain market. We are able to increase our customer knowledge and learn about buying behavior when we can test and measure things", says Kallio.
Of course, the measurement of customer satisfaction will continue and operations will be developed on this basis. The HubSpot Service Hub might be the next step what comes to measuring the customer satisfaction as well as offering more channels for our customers to communicate with us.
"The website is also to be developed with HubSpot CMS. We are actively doing digital advertising, and we will continue to utilize HubSpot as customer data increases", says Kallio.
One of the secrets of a successful project is that all HubSpot users at Nordic Floors were fully committed to using HubSpot and agreed upon common practices from the beginning.
"They have the skills and interest to explore and take advantage of HubSpot's various features. All the tools for growth exist", says Jani Aaltonen.